Skip over navigation
The official government website of Wayne County, Georgia
68°
Local Forecast
River Depth: 6.40'
Start Content
Athletics
The Wayne County Parks & Recreation Department offers diversified athletic programs to our youth and adults in a clean, safe, and enjoyable environment. WCRD has a rich tradition of excellent youth sports programs and the goal of this department is to carry on that tradition while also adhering to ever changing trends in sports. Our diversified portfolio has something for anyone that is interested in sports!
Rest assured that you or your child is protected by WCRD as each coach/volunteer is screened and has to consent to a criminal background check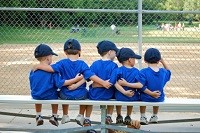 before being allowed to represent this department. We also provide training and certifications for each coach/volunteer to increase efficiency and validity of our athletic programs.
We encourage you or your child to get involved in sports and give WCRD the opportunity to provide a program for you! Here are some major benefits of getting your child involved in youth sports:
The physical benefits of being involved in athletics at a young age are plentiful. By teaching children about the importance of staying active and fit from a young age, we are helping to show them the value of exercise and staying healthy. Physical health and well-being in children is also directly related to their mental health and well-being, and active children that put their often boundless energy to use in a constructive environment are able to grow from the experience of being a part of a team.
Not only are there physical benefits to being involved in sports at a young age, there are also many benefits that come from the competitive side of sports. Athletic competition and the values and ethics that it carries with it, is a great way for children to learn about how to compete fairly with others. It is one of the many life skills that children can learn from playing youth sports, and it prepares them for the many different kinds of competition they will face in life, as well as giving them, "an opportunity to understand the healthy aspects of competition in a friendly environment. Students of all ages who participate in sports have been found to cope better with competition in other areas of their life" (Yan & McCullagh, 2004).
Contact Us
Phone:

(912) 427-5915

Fax:

(912) 427-5906
In this Department
In this Department
Topics of Interest