Skip over navigation
The official government website of Wayne County, Georgia
70°
Local Forecast
River Depth: 6.40'
Start Content
Track
The Wayne County Parks & Recreation track program allows children ages 7-14 the opportunity to compete against peers of their own age in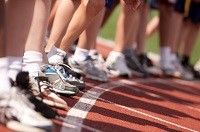 neighboring Counties. Our track program is an opportunity for young athletes to prepare for the district track meet every year in April. Emphasis is placed on preparing for the district event and the program is more instructional rather than competitive based.
Important Dates:
The youth track program is in the months of March and April. Practices begin after April 5th 3:30-5:00 p.m. Wayne County High School Track (otherwise TBA - this time helps the kids to participate in other sports)
Practice Run - Liberty County - 3rd weekend in April
District - Last weekend in April
State - 2nd weeken in May
WCRD requires that all participants have a copy of their birth certificate on file to participate in any and all programs.
Registration: ONLINE NOW - February 20, 2015
In Office: NOW - February 20, 2015
Ages: 7-14 Coed
Control Date: Age PRIOR TO December 31st of the current year
Fees: $10
---
Contact Us
Phone:

(912) 427-5915

Fax:

(912) 427-5906
More Information