Skip over navigation
The official government website of Wayne County, Georgia
52°
Local Forecast
River Depth: 6.40'
Start Content
Football
Are you ready for some FOOTBALL?
The Wayne County Parks & Recreation Department has an exciting youth football program! The season begins in September and runs through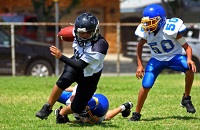 November. These dates include District and State Championship. District play is always the weekend before Thanksgiving and State is the first weekend in December.
All times and dates are approximate and are subject to change. Schedules will be distributed before the season starts and practice dates and times are at the coaches discretion. Helmets and shoulder pads are provided by WCRD and will be issued approximately the second week of August.
WCRD requires that all participants have a copy of their birth certificate on file to participate in any and all programs.
Registration: ONLINE NOW -
In Office:
Ages: 4-12 - This includes a Flag League for 4, 5 and 6 yr olds; Flea Division Tackle for 7 and 8 yr olds; Mite Tackle League for 9 and 10 yr olds and a Midget Tackle League for 11 and 12 yr olds.
Control Date: Age PRIOR TO September 1st of the current year
Fees: Flag: $25.00 Tackle: $30.00
All coaches are NYSCA certified!
Click here for more NAYS information!
Contact Us
Phone:

(912) 427-5915

Fax:

(912) 427-5906